About Us
Our mission is to provide you with the best tools to succeed in the dynamic e-commerce environment of today.
In present day customer loyalty is thing of the past. Even with best optimized pictures, titles and pricing there is always someone cutting in line for a quick sale lowering their potential profit margin and lowering your sell-through/profits. To maximize the best of your online exposure we have developed the autorepricer called Autopilot. Yes, we know there are a ton of them but we will surprise you with the number of features we developed to make our business stand out from the competition. We sold more than 40% of the total quantities sold in our entire industry on eBay by constantly improving our system and getting an edge over the competition. We have a robust control over pricing, inventory, reporting for revenue, fees, returns and all aspects of running a 1000's of SKU's business. We are pleased to introduce you to one of our basic tools at no cost for our first 100 clients. Why are we doing the free program  Well, we are new to market and still in active development. We will be polishing our products for market and will be looking for as much feedback we can get by providing free education and support to our first patrons. The idea is to make the introduction to our simplest tool that can increase any seller output significantly and then demonstrate the best practices in the industry that aid in control of inventory management. We can deliver daily report for all eBay fees, shipping fees, returns and fees associated with them. Inventory cost associated with each product sold allowing you live data for profit margins.
Features
Link price to competitor by eBay ID and pre-define delay and amount to activate.
Pre-define delay to activate new price. Example if competitor A price drops by X amount your price will wait the specified delay time and activate. This prevents competitors to exploit auto rules like in amazon where you can lower and find your competition minimum price for products.
Set an amount or percentage to lower or increase your price based on tracked competitor item. Example: Competitor A has an item set for sell at $99.99 and your item is at $100.00. You can set to beat his price by $1 with 1 hour delay and it will always follow his price and set your item price to $98.99 in one hour.
Automatic rules will deactivate on specific threshold or if your competitor is out of stock.
Why choose us?
Set automatic rules to lower price every X days/hours by Y amount.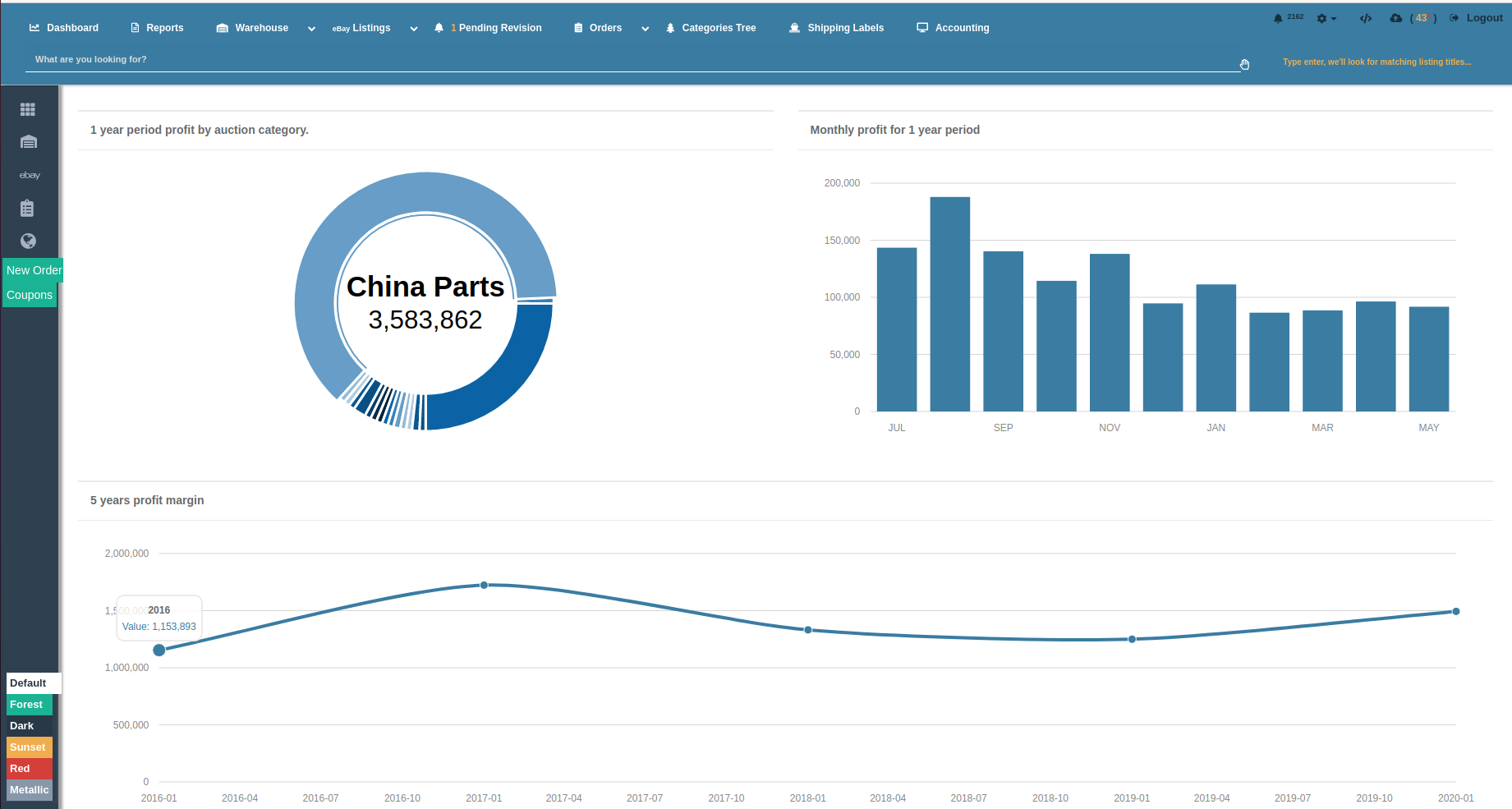 You can predefine a set amount to lower your price a specific period. In this example we will lower a product by $2 every 5 days 3 times. If you realize a sale within any of the reduction time frames the price will take another 5 days to lower again. So an iPhone is set for sell at a price of $100 and I wish to lower the price by $5 every 5 days and run this rule 3 times. If I get a sale in the second reduction phase, the price will be $90 and 1 day left to get lower back to $85 but because we realized a sale within the reduced time frame it will extend from 1 day to 5 days to reduce again by $5 to $85. This is important as we are trying to use this tool to optimize best sell-through price for a product. Once we find this optimal price we try to maximize the sales there and then proceed with reduction of price if it doesn't materialize.
All these features gives you unprecedented control of your inventory and profit margins. You can apply to a very short timeframes or over month's time. All these rules expire and give you notification when they are expired and prompt you to go review the market conditions and make any necessary adjustments then reactivate them.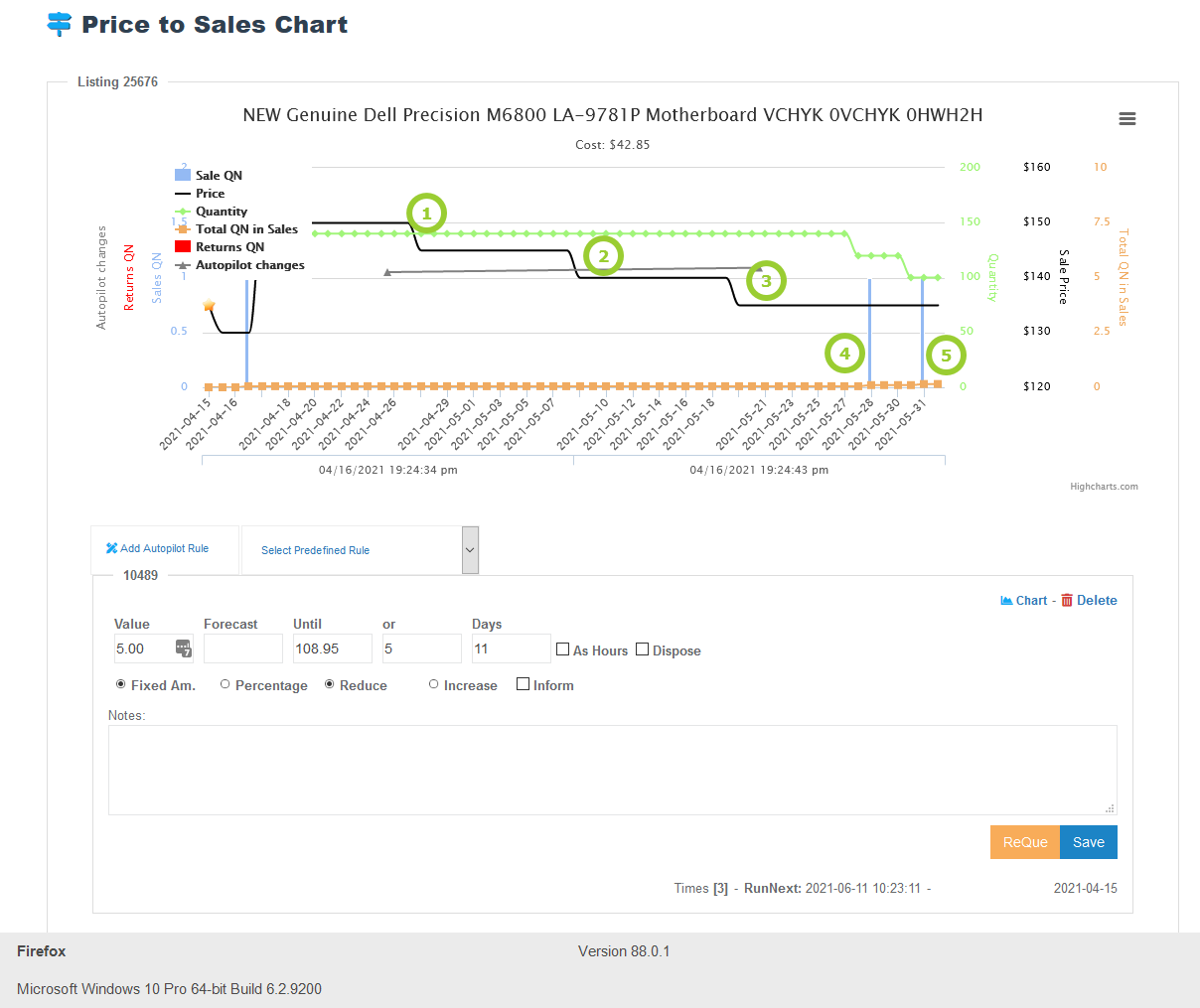 Understanding the features
In this example we have a product which we initially priced at $129.95 for quantity 8 which appeared to be optimal market price. Since this is a new listing and we want it to rank higher in search result, we started it off with initial optimal price at $129.95. Within a day we sold one of the items and then we utilized the autopilot to maximize our exposure and profit. Price was increased to 149.95 with a $5 reductions every 11 days. As per the example below, we reached the price of $134.95 is 33 days or three 11 day periods and then made a sale for $134.95 few days before the next scheduled reduction. The sale automatically extended the 11 days reduction for another 11 days from the date of sale resulting in another sale in 3 days from the preveious sale. The indication here is indicative that we found a good price where the expected sell-through for this item is about 2 a week with projected out of stock SKU in about 30-60 days. We could have probably stick to the initial price of $129.95 and sell them a little quicker but in our example this is inventory item that we could not control the re-order points or simple said one time deal for this part and we are trying to maximize the profit margin. Projection for this item is to increase revenue by 4%. Since our system keeps track of cost, selling fees and shipping fees automatically we can clock in a profit at $72.54 for the $134.95 sale vs $67.75 for the $129.95 sale for the exact same item. The net profit is 7 % higher after we optimized our item with the autopilot. There are unlimited strategies that could be utilized with this tool, many items are very high sell through and unlimitted supply, so obviosly tracking your competitors in this scenarios would be the winning strategy. The green line in the chart represents the quantities in stock. It is very useful to track your stock levelsand reorder points. The solid black line represents the price change. We will log which process or user initiated the change. Many changes if done directly from ebay will automatcally void your autorepricer rule and put it in the inactive category requiring manual review and re-activation. The Vertical Blue lines represent sales quantity. The yellow star would idicate when the autopilot rule was first initiated. On the bottom it will show you the RunNext date for the set rules and when the rule was activated and when it will expire. Once a rule is exprired or inactive it will automatically get categorized in your to-do list for manual review. We will soond attempt to release videos on different strategies we utilize for different products to help you best optimize your target products. In addition to eBay we are almost on the final stages of Amazon re-pricing but the amount of validations that we need to implement is out of this world in order to achieve efficient and reliable system. We built our business and established ourselves as leader in our space and hope to help you achieve your goals and be the best seller you can be. If you are pationate and interested in what we do please feel free to contact us and let us know if we can collaborate on improvements and implementation of anything that we may be missing.